Digital Maturity: How to evaluate and boost your business
Yasmim Restum
- 3 de March de 2022.
The digitalization of society has brought benefits for customers and challenges for companies. Many industries still have a long way to go to achieve the digital maturity that can make them stand out in the market and deliver envy-worthy results.

To run a business with a/of the future it is not enough to bring all the new technologies and digital trends closer and expect them to do the rest.

Because even super-digitalized industries still have disparities regarding their digital maturity rates. And it includes keeping up with the changing pace of the market, knowing how to change processes and mindsets in a business.

It is not a simple and easy journey, but it is not impossible either. Just as every butterfly, to achieve its splendor, has been in a cocoon and crawled until it could fly, every traditional company has once taken this step and gone through the challenges to reach digital maturity.

In other words, digital transformation is a path of no return for companies that want to survive change and find digital maturity - and the timing of this initiative has a direct impact on the competitiveness of a business. Therefore, in this article, we will learn more about:

What is digital maturity in companies?
What is the advantage of achieving good digital maturity?
What to analyze to know the level of digital maturity of your business?
6 tips to leverage the digital transformation
Let's go!
What is digital maturity in companies?
Digital maturity is an index that shows how much a company is able to increase the effectiveness in its operations and the level of customer satisfaction from investments in new technologies and digital or automated processes.

Digitally mature companies have technology so closely tied to their processes that it hardly stands out, but the teams or professionals who can best interpret the insights and improve their daily work from them do stand out.

However, since digital maturity is a dynamic index that oscillates according to trends and technologies, it makes sense that it is measurable, so that companies are able to review their processes and prevent the competition from moving ahead.

In this sense, it is very important that the digital mentality contaminates a corporation's employees. In addition, this transformation needs to come from the leaders, who need to be engaged and open to innovation when making decisions.

What is the advantage of achieving good digital maturity?
Enterprises cannot run after phantom objectives or invest resources in an area of abstract returns. And it is precisely to avoid falling into this risk of betting on something uncertain that a company needs to seek digital maturity. Results go far beyond financial returns - but these are also included.

There is a direct link between financial return and the success of the digital transformation. In companies that achieved all the goals of the transformations, the average financial return was double compared to those that failed to leverage this change, according to a study by the Boston Consulting Group (BCG).

A recent McKinsey survey also reinforces that leading digital companies have better financial performance. In Brazil, their growth rate is 3x higher than other companies, and globally, digital leaders have grown 5x more.

But the study also revealed that as companies increase their digital maturity, the gap widens between the average company and other companies at different digital maturity levels. This means that there is a significant acceleration curve of businesses going digital.

Thus, leading companies show greater consistency in digital management practices and have less variability in the score in each assessed area (we will see what to take into account when calculating digital maturity in the next topic). In other words, for companies that lag behind, it becomes increasingly difficult to catch up with the leaders.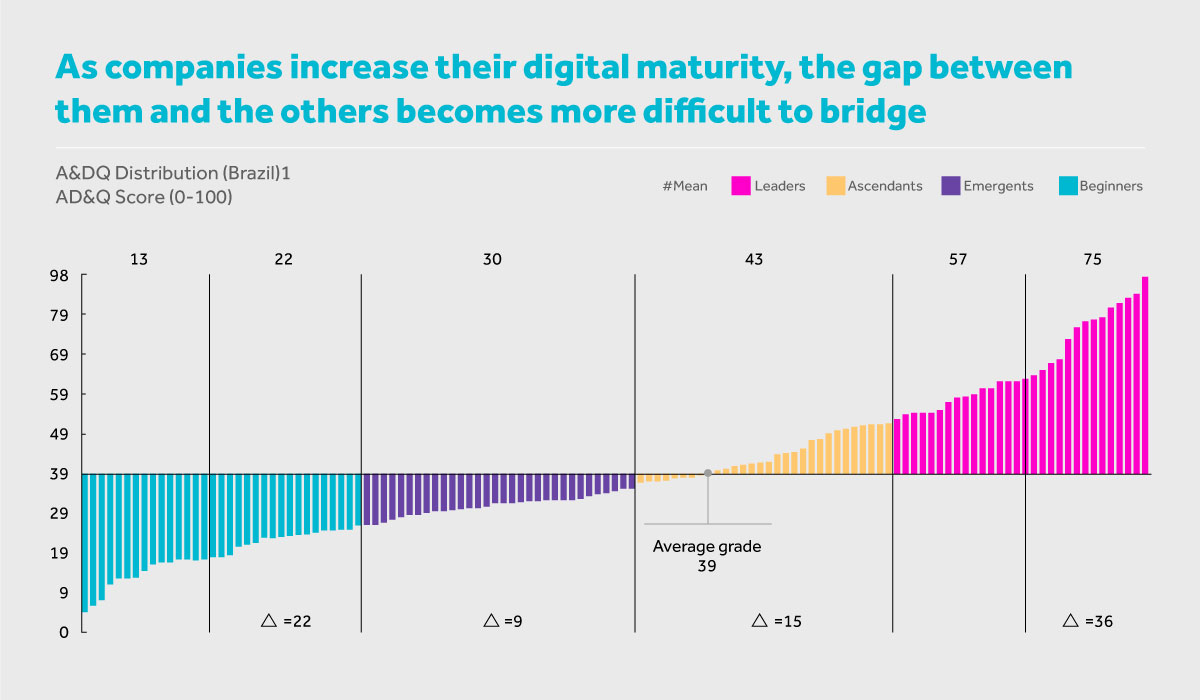 Leading businesses are also able to capture the complementary nature of digital areas and practices - and show that the digital mindset of leadership makes all the difference in dealing with new technologies, disseminating them among the leadership to improve business results, and monitoring them to ensure successful implementation and correct use.

Finally, the study also highlights that the client's journey can be better prioritized and their needs and expectations met (such as intelligent suggestions of purchase items): 80% of leading companies manage to provide an excellent journey, compared to only 13% of other companies.
What to analyze to know the level of digital maturity of your business?

There is nothing in a well-structured business that is not measurable - and digital maturity is no exception.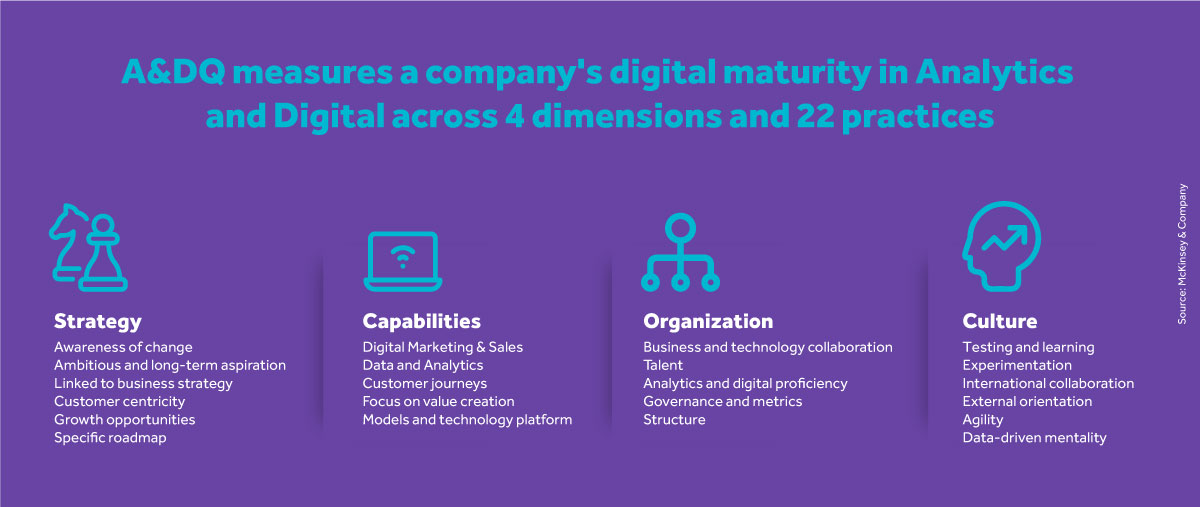 There are several ways to calculate it, but one of the tools that uses more variables and has a good accuracy is the Analytics & Digital Quotient (A&DQ) - which evaluates 22 management practices critical to the success of digital transformation, distributed among 4 dimensions. Being a global tool, A&DQ assigns a unique score that allows benchmarking between peer and leading companies.

In the context of the survey, companies were categorized into 4 groups according to their degree of maturity:
"Leading" companies have a score above 51;
"Ascending" companies score above 35, but lower than digital leaders;
"Emerging" companies score above 25, but lower than ascending companies; and
"Beginners" with a score below 25.
Considering the overall score of the sample of 124 responding companies, which is 39 points, there is a significant chance to bring the digital maturity of overall companies closer to that of the leading companies, whose score is 66 points.

What most differentiates the leading businesses from the other companies evaluated is the Organization dimension, which concerns aspects related to the ideal structure of a company to enable digital transformation - which includes the availability of technical talents, others who can link technology and business, and professionals competent in management and governance.
6 tips to leverage the digital transformation
To achieve digital transformation, companies need to develop several assets and capabilities, key ones include:
1. Secure, flexible, and scalable solutions
Infrastructure needs to balance security and privacy with flexibility and scalability. The strategy needs to have clear and defined objectives for the entire enterprise - then it will be possible to expand the business model.

This way, it will be also possible to adopt technologies with performance aligned to the business objective, which ensures that changes and "course" corrections can be made in an integrated way without hurting the ecosystem.
2. Data mastery
It is critical to gather, process, and monetize data in order to generate insights for products, services, and operations. This initiative increases efficiency, revenue, and customer engagement.

It is also important to monitor the use and application of the information so that digital transformation progresses.
3. Digitally savvy talent
Strengthening training programs focused on digital skills is one way to accelerate transformation and quickly access skill sets, and promote workforce flexibility.
4. Joining forces
Bringing together research and development partner organizations, CEOs, and external business partners can ensure that a company has access to technologies that it could not previously afford.

Committed leadership inspires team members and moves a company forward.
5. Smart workflows
To leverage human and technological resources, processes must always be recalibrated - ensuring that the highest value ones are continued and new needs receive investment.

Leadership should identify and nurture outstanding talent and adopt agile governance to facilitate "route" changes along the way.
6.Unique customer experience
The customer must be the main beneficiary of this digital change. And this involves a better experience - built from a 360° view and therefore unified.

The entire company must understand the customer journey and seek ways to make it increasingly digital, and with quality human interactions.