How Big Data can help risk management at your business
Yasmim Restum
- 3 de September de 2021.
We are more connected and produce more information in 24 hours than the whole humanity did up till the beginning of the XXI century. Although, we can agree that this is no big news, the global movement towards generation of huge amounts of data influences the way companies should behave in order to maintain themselves relevant.



The more information we've got, the less attention we pay, said the Nobel Winner Herbert A. Simon, who coined the term "attention economy". If we are in an era of endless information at our fingertips, what does scarcity concentrate itself on? yes, attention.



This, of course, easily relates to people in general. Nevertheless, it can also be an alert to companies that not only generate a lot of data, but also receive the same or even bigger amounts from clients. All this information equals nothing if not stored, hygienized, treated, structured and analyzed so that it generates rich game-changing insights.



And that is when Big Data enters the scene. Not only for various fields, but also for different business goals and targets. Helping companies which are struggling with a real big quantity of data, privacy and legal issues, making predictions, anticipating trends and market opportunities, communicating with their clients or even preventing losses.




So, how can Big Data be of help?



Nowadays, the business verticals do not determine if you need Big Data (I guess we have already been through that), but actually your vertical is what is going to determine which filters, patterns and technologies are going to be used so that Artificial Intelligence, Machine Learning and other techniques extract the best information.



Mainly if we are talking about risks management such as Insurance market (health care, automotive, life…), Retail, Financial Credit and many others, great data analytics can bring in new customers, benefit the loyal ones, identify behavioural patterns and, obviously, get your business back on track.



Predictive analytics as a top ally



A predictive model is a mathematical function that is applied to a large amount of data (Big Data) in search of pattern identifications to efficiently predict the future and understand better fraud risk, default risk and many others.



So, observing past data, you can create a history for consultation and train your model to precisely identify the probability of future results. That way, risk management becomes a lot more effective.



In practice, how a predictive model applied to Big Data can enhance your risk management?



Get to know your clients: Clustering clients and creating a Profile Unification for each one can help your company define the audience and qualify your customer base and leads. This is essential to know who are the best clients, and also those who are not, so that your company can get a low risk of claims, for example, and reduce cost of enrollment for the top rated leads.

Understand your competitors: Making trend analysis of regionalized sales and mapping your competitors in the region is also a possibility when it comes to Big Data. This kind or comparison is key to visualize the relevance of your products or services in the market.

Trend analysis: Large databases can help you have a view of your commercial Score and cross-reference it with the history of market operations to see whether it is possible to go for short-term changes, or if they can have negative impacts on future scenarios.

Monetization: Your Marketing team can do "magic" with analyzed data and transform it into customized sales for the right niches of clients. Not only that, but also your channels can be the perfect media barn for other brands and that can mean new revenue streams.

Prevention from crimes: Big Data can effectively help companies detect criminal movements such as money laundering, so it is possible to contact the responsible authorities and decrease the number of these types of occurrences.

Agility in processes: Not only when it comes to evaluate payment capacity in credit operations but also in retail logistics when you can follow real-time stock update systems. It is possible to optimize these processes and even present more accurate product offers.

Organizing your Big Data environment
It is crucial that managers take into consideration a virtuous cycle or data analysis in the decision-making process inside the company.


1 – Have different sources of information
Understanding the variety and volume of internal data, market data, external databases, and data collected from the internet is the first step. Besides which databases are available and which systems are used for storage.


2 - Privacy comes first!
Your company has to apply LGPD, GDPR or any other privacy legislation principles to work with other people's data and take advantage of the wealth of information. Gather specialists in data protection and deal with highly qualified consultants. The data type and format can change the way it should be legally stored and treated.


3 – Unify and organize
To be able to create analytic insights, all data types must be integrated considering the cross-referencing of the diversity of sources available. Security criteria and usage permission must be well defined as well as visualization templates and dashboards.


4 – Create solutions for decision-making process
Next, you must validate, clean and qualify the data to eliminate errors, handle incomplete data, and create new variables that capture information from the problem and bring in solutions and insights.


5 – Track business results
The data can be used to create predictive, prescriptive, and descriptive models with Machine Learning and Artificial Intelligence algorithms. However, all should be monitored in order to guarantee the best results.
That way, you can better get what your client wants, locate buyers, monitor competitors, and predict risks.
All in all, storing data is not enough. It must be leveraged to generate value, and this depends on curation, mining expertise, and tools created for extracting knowledge from data.


Are you interested in how Big Data can enhance your business performance in managing risks?

Speak to a Zoox specialist to request a Zoox Eye demo.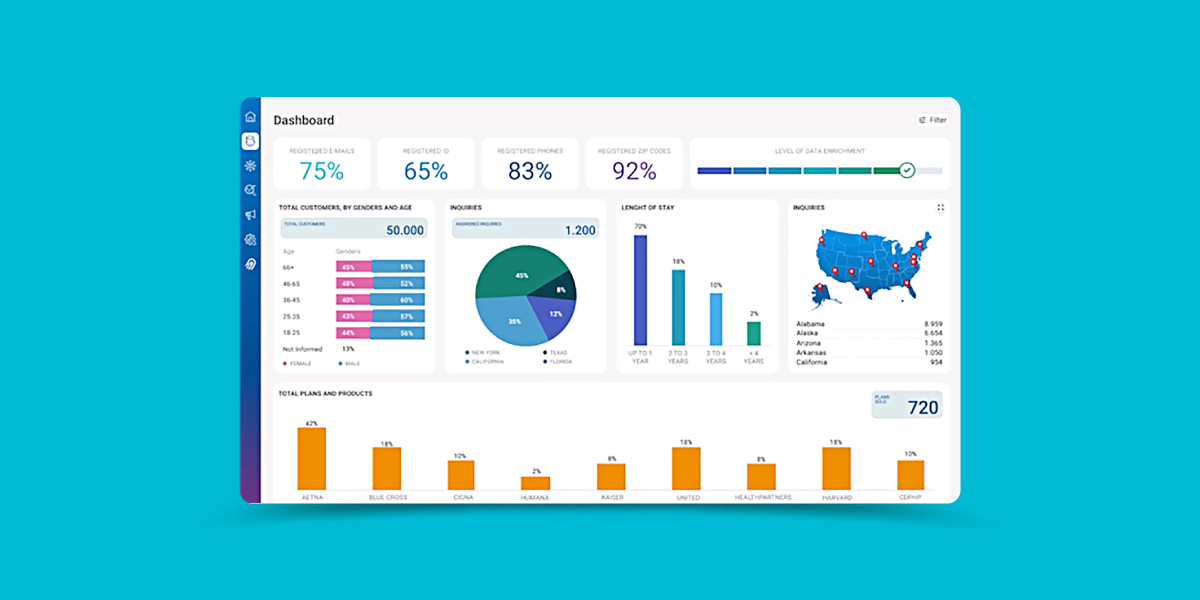 Zoox Eye is a long-life customer data platform (CDP) that collects and qualifies data on an ongoing basis, giving a 360-degree profile of your customers. We go to your information sources, integrate the data into your Data Lake and qualify it in our Data Hub, then create easy-to-navigate visual dashboards and generate analytics models.


Present in 23 countries with our multilingual robust platforms and data ecosystem, Zoox has an immense inventory, with 24/7 support, visual dashboards and easy-to-navigate interface.


Set up a free consultation and understand our possibilities for your brand.