Data-Driven Company: How to Accelerate and Sustain Digital Transformation
Yasmim Restum
- 6 de May de 2022.
The digital world is already a reality, and the internet has certainly been the greatest innovation of the 20th century. Therefore, one can imagine that, since it changes how we interact, live, and consume, the corporate universe also needs to move in this direction.
More than just moving in the same direction as the customer, companies can also better organize themselves and drive new desires and ways of self-expression through products and services. It also helps executives to make more precise decisions in uncertain times.
And it is as much in understanding customer desires as it is in investing in organization and influencing capabilities that a company goes towards Digital Transformation to become, in fact, Data-Driven.
In this article, we will understand more about how to accelerate and sustain digital transformation by applying Data-Driven management to various areas of a company. But first...
What is a Data-Driven Company?
A fully Data-Driven organization is one that has successfully gone through the digital transformation. Not only did it, but the organization continues to upgrade itself permanently. In fact, Data-driven companies are the ones able to get ahead of the competition.
This is because intelligent data analysis allows them to anticipate trends, identify opportunities first and take risks, and make route changes with more precision and assertiveness.
Much more than having technologies and tools, a Data-Driven company has already established a strong data culture among employees. And everyone, in an integrated manner, consults a rich and updated database to make decisions.
Digital transformation in practice
Against a background of so many uncertainties, one thing is certain for technology and business leaders: digital transformation and its acceleration is what will support their business strategy.
In fact, 60% of executives said that digital transformation is the most essential factor in the growth of a company in 2022 (PwC). The competitive advantages are many, according to research by Finances Online.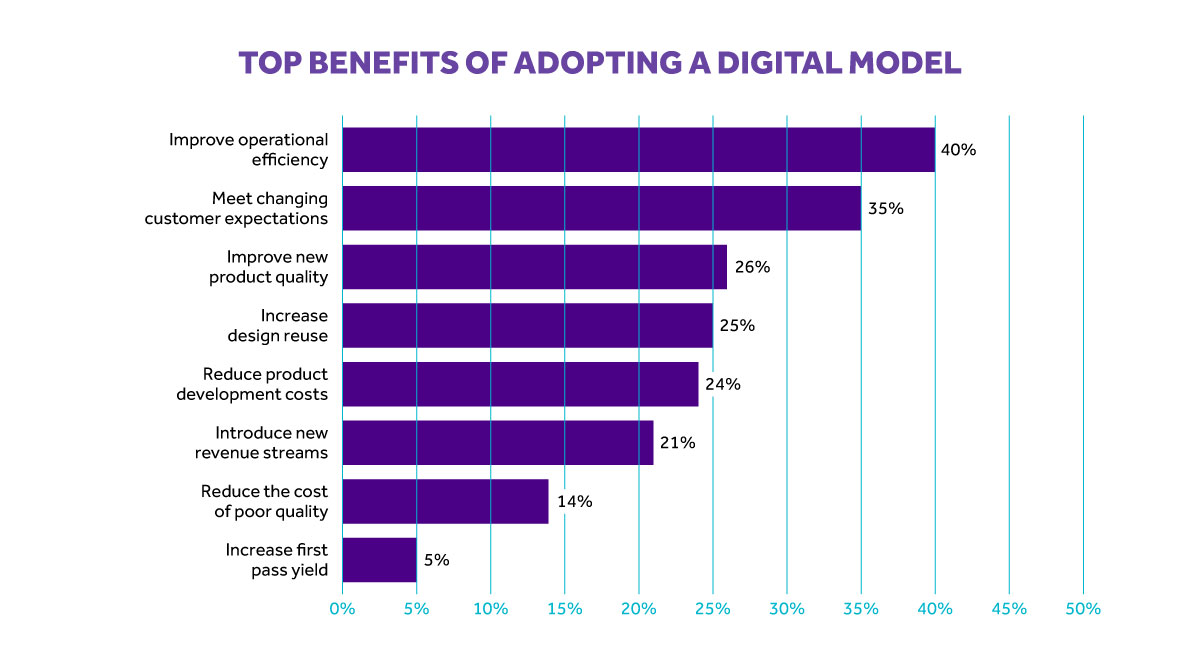 However, there are short, medium and long-term changes, investments and results. With data-driven decisions, leaders will be able to avoid more failures, scenarios and trends can be better analyzed, and thus corroborate the development of more effective projects.
In addition, it becomes easier to innovate by knowing better the behavior and preferences of your customers and your competitors - also helping in the creation of strategies and in the identification of opportunities. Therefore, a more rational company has a potentialized management.
If we think, then, about the application of digital transformation in companies, what would it look like?
Among the first steps should be:
1. Team training with integration and implementation
Employees must be trained and encouraged by leaders to understand and make use of the Data-Driven philosophy. It is important that all employees participate in an onboarding so that they are aligned with the new values of the company.
It should happen after the purchase and subscription of data collection, treatment and analysis tools, as well as the hiring of specialized employees, consultants or data management companies.
If the implementation is Top-Down (from leadership to subordinates), accelerating the Data-Driven transformation becomes easier. Including data work and report extraction and/or interpretation in the employees' goals and delivery routine can help consolidate this process.
2. Naming a CDO/CTO
This professional who goes by the acronym CDO is the Chief Data Officer. The CTO is the Chief Technology or Transformation Officer.

He/She will be responsible for promoting this structural and strategic change, in addition to looking after the data itself and investments related to it.
3. Concern with LGPD guidelines
It is very important that technical and administrative security measures are implemented by the company to ensure the confidentiality, integrity and availability of the data processed, in accordance with the guidelines of the law.
In the case of the use of personal data, it is essential to appoint a DPO, a Data Protection Officer.
4. Definition of best practices and frameworks
The teams should incorporate, for example, agile methodologies so that data does not burden the teams, but rather contributes as a facilitator. The periodic and constant monitoring of market trends and best practices is fundamental in a Data-Driven management.
In different areas such as Marketing, Sales and Finance, it is possible to incorporate Data-Driven thinking.
Through Data-Driven Marketing, for example, it is possible to segment audiences and increase the impact of the target audience, besides avoiding waste in physical or digital campaigns.
It is advisable to hire or train professionals in order to have a Performance and Growth area. Also, invest in softwares with integrated Business Intelligence solutions, automations, hypersegmentation for campaigns and communications, analytics, among others.
In Sales, on the other hand, customer data is gold. With state-of-the-art tools, employees, or third-party management companies, your company can work with a unified customer view, work with risk, credit, fraud, and other analyses from modeling, and identify areas for expansion and unreached potential customers.
The data helps you understand the customers' desires, their consumption habits, and their needs. Thus, it is much easier to manage offers, inventories, suppliers, product and service updates, and much more. All this to ensure a better organization of the company and a frictionless experience for the customer during the buying journey.
There are also possible applications in the Finance and Performance departments, to make them even more strategic. With the implementation of the Data-Driven philosophy, it is possible to better analyze cash flows to minimize impacts and anticipate crises.
Moreover, it is also possible to better identify the most vulnerable areas - to protect, of higher performance - to invest, and investigate possible fraud and mismanagement as well.